Mystery Case Files: Madame Fate ® is distributed as a trial version, It may be downloaded free of charge,but there is some limit in it. The game you downloaded must not be Resold. Full Unlimited Version, Processed by secure third-party site.No shipping, No waiting or CD-ROM necessary. Instant download & activation. Remove all the limitations, instant activation of Mystery Case Files: Madame Fate ®.
WINNER! #1 Hidden Object Game of 2007 Madame Fate, a mysterious fortune teller, has foreseen her own demise at midnight this very day. She has asked for your help in investigating each quirky carnival worker to determine their whereabouts at midnight. Your investigation will include a multitude of fascinating personalities, from Art the Carny to Lucy the Bearded Beauty, while exploring the magical world of Fate`s Carnival. Each suspect has a motive, but only a Master Detective can discover the secrets hidden within Madame Fate`s crystal ball.
Tags:Mystery Case Files Madame Fate (Rank:39,2007/11/08)
Game Mystery Case Files: Madame Fate ® Screenshots
(click on screenshots to view large image on a new window)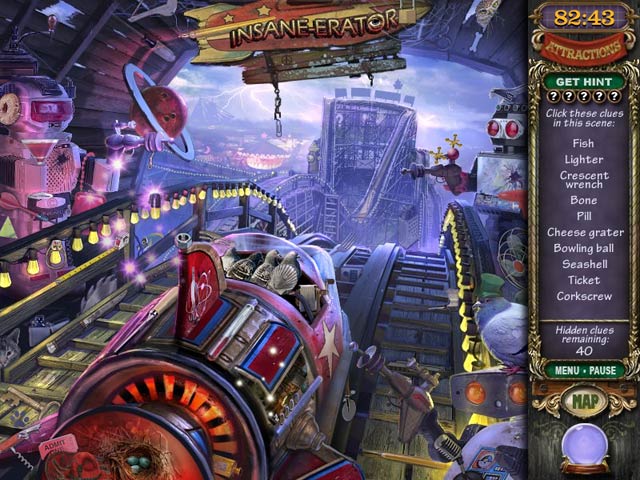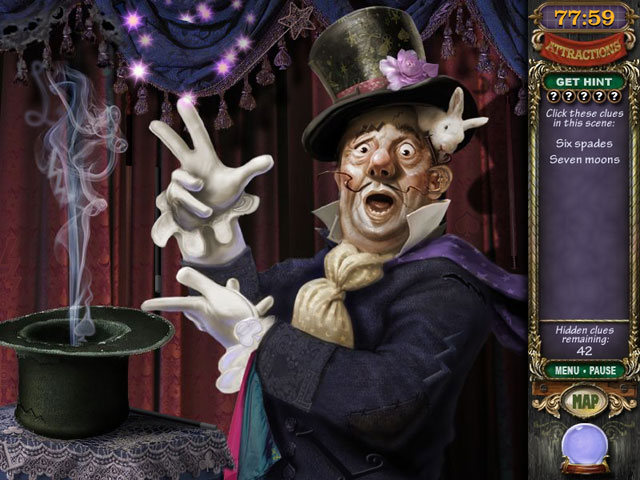 Full features:
More areas than ever before!
Multiple brain-bending puzzles.
Get the Strategy Guide.
Get help at our Forums.
System Requirements:
OSSupport Windows XP/Vista
CPU 800 Mhz
Memory 512 MB
Hard Disk 116MB
DirectX 7.0
51IL.com Guarantee:
100% Safe.
No Adware or Spyware!.
1. Click the 'Buy' button!
2. On the next window click 'Continue'(Allow Pop-up option for your browser if necessary).
3. Choose purchasing options and follow the instructions of new windos.
4. Purchasing is simple and takes less than one minute!
65% OFF $6.99 per game - Jumbo Pack
12 games minimum in the next 12 months
60% OFF $7.99 per game - Super Pack
6 games minimum in the next 6 months
50% OFF $9.99 per game - Casual Pack
2 games minimum in the next 2 months
$19.99 per game
No Game Club benefits
Different Versions Of Mystery Case Files: Madame Fate ®
Review
No Reviews found for Mystery Case Files: Madame Fate ®. Please write one!
Only reviews,tips,hints,Walkthroughs for Mystery Case Files: Madame Fate ® here. Don't post serial or crack requests here.